Orthopedic specialists in West Palm Beach
If you or a loved one need orthopedic care, we're here to help at the Orthopedic & Spine Institute at JFK Medical Center North Campus in West Palm Beach.
We offer comprehensive, innovative technological advanced solutions for many disorders of the joints, neck pain, fractures, arthritis, joint discomfort, and back pain.
Virtual Tour
Above is a 360° panoramic virtual tour of our facilities. Click and drag the image with a mouse or navigate the tour with a keyboard use the following keys.
Pan left - Use the left arrow key to pan left
Pan right - Use the right arrow key to pan right
Pan up - Use the up arrow key to pan up
Pan down - Use the down arrow key to pan down
Fullscreen - Use the "f" key to view fullscreen
Exit fullscreen - Use the "f" key to exit fullscreen
Rotate panorama - Use the "r" key to start or stop autorotation
Toolbar - Use "t" key to hide/show toolbar
Zoom In - Use "a" or "+" keys to zoom in
Zoom Out - Use "z" or "-" keys to zoom out
Next panorama - Use "n" or page down key
Previous panorama - Use "p" or page up key
Screen reader users can use the Tab key to access alternative text for each scene within the virtual tour. Use Shift + Tab keys to return interactivity to the tour.
To learn more about the orthopedic services offered through JFK Medical Center North Campus, contact us at (888) 256-7694.
Orthopedic specialists
If you are experiencing orthopedic pain, we are here to serve you.
Using the latest advances in the field of orthopedics and spine care, our dedicated team of professionals can attend to all of your surgical needs. Our specialized orthopedic care team includes:
Board-certified orthopedic surgeons
Extensively trained neurosurgeons
Orthopedic certified/trained professional nurses
Specially trained physical therapists
Experienced technicians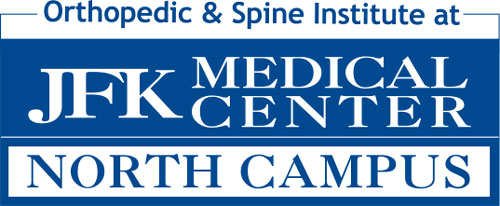 Joint care
We offer many treatment options for joint pain. If you are experiencing pain in your knees and hips, you may benefit from taking our Hip and Knee Health Risk Assessment, located under Helpful Links.
A human touch using robotic precision
The orthopedic program at JFK Medical Center North Campus is proud to offer the MAKO Robotic-Arm Assisted Technology for partial knee, total knee, and total hip replacement procedures. This smart technology allows surgeons to utilize 3D CT based planning software based on your unique anatomy to create a personalized joint replacement surgical plan. This helps the surgeon execute the procedure with the highest degree of precision and accuracy.
During surgery, your orthopedic surgeon guides the robotic-arm within the pre-defined area, positioning the implant based on your personalized plan. This innovative technology provides your surgeon with greater precision helping protect your healthy bone and soft tissue, reducing recovery time to getting you back to the things you love much faster.
Orthopedic pain treatment
Our Center for Pain Care at JFK Medical Center North Campus provides compassionate and respectful treatment for patients experiencing acute or chronic orthopedic pain in West Palm Beach. We offer minimally invasive surgery, nerve blocks and more to treat a wide range of pain disorders.
Compassionate orthopedic care
Our institute offers you support through classes and reading materials, from pre-admission to post-discharge. We ensure a seamless and smooth transition from hospital to home.
We know how important it is to be comfortable during the healing process, so we try our best to create patient rooms that feel like home. See some of the rooms in our Orthopedic & Spine Institute below.
Orthopedic care locations
Retrieving location data...