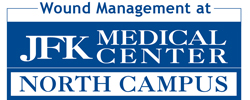 At JFK Medical Center North Campus we specialize in the treatment of non-healing wounds. Our specially trained doctors and nurses will develop an effective up-to-date treatment plan to speed up the healing process of your specific type of wound.
Your first visit will include a review of your medical history and medication usage. We may also do some simple circulation tests and measure your blood sugar to help determine the cause of your wound.
Our team of caring professionals will help you with decisions about your care, including dressing instructions, home care and wound prevention education. Weekly monitoring of your progress helps us to make adjustments in your plan of care as needed to provide the fastest results possible.
We accept most major insurances, including Medicare and Medicaid.